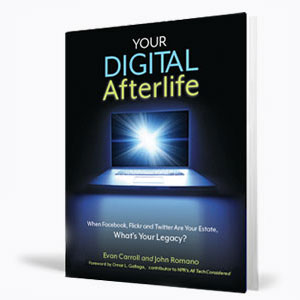 Acclaim
"

Your Digital Afterlife is the first book to take on the looming topic of dealing with death and online identity. Evan and John summarize the issues presciently and give practical advice to anyone who is on Facebook, Twitter, or does any form of business online. It's a must-read in the digital era!

"
-Jeremy Toeman, CEO and founder, Legacy Locker
More Reviews
How to find forgotten accounts
With an increasing number of websites requiring you to create an account, it's likely that you have a large number of them—probably more than you realize. Some of these might not be important to you, but others could contain rich content that you've created and since forgotten about. Here are a few tips for rediscovering forgotten accounts.
Check Your Web Browser
As the portal through which you access most online content, your Web browser is full of information about your online interactions. A quick look at your bookmarks or browser history will show some of the sites you frequent. Chances are some of them are sites you log in to access. If you save passwords in your browser, you can also look to your saved password lists for this information.
Firefox for Windows or Mac
Mac users go to the Firefox menu > Preferences. PC users go to the Tools menu > Options. Click the Security tab. The Saved Passwords button brings up a list of sites where you have a stored password.
Firefox Exporter is a Firefox add-on that allows you to export all your passwords into CVS format, which can be opened as a spreadsheet in programs like Excel and Google Docs.
Safari or Chrome for Mac
Go to the Applications folder > Utilities and open Keychain Access. Choose Passwords to see a list of saved passwords from your browser.
Chrome for Windows
Go to the Tools menu > Options > Minor Tweaks tab. In the Passwords section, click the Show saved passwords button.
Internet Explorer for Windows
In Internet Explorer, there are no free or built in password recovery features.
We haven't tried it ourselves, but there is Passcape Internet Explorer Password Recovery.
Check Your Email
When you sign up for an online account an email is often sent to you for verification. Sometimes these emails include your user name and/or password, but at the very least they provide a record that you created an account. That can be very useful for discovering accounts you've forgotten about.
If you save your old emails, you can use your email client's search tool to find these messages. Give it a try using search terms like account, username, password, and confirm.
In the future, consider saving all your account emails in a folder when they arrive. This could become a good reference for you, and a great directory of your accounts for your survivors, in case you haven't thoroughly documented your online accounts elsewhere.