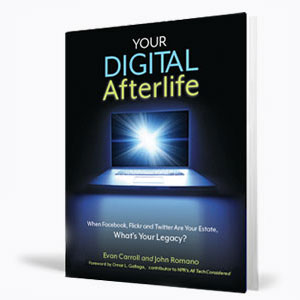 Acclaim
"

To be ahead of one's time usually means stepping to the side of one's time in order to see it clearly. This book does just that, putting our digital lives and afterlives into sharp focus. Fascinating.

"
-David Eagleman, neuroscientist and author
More Reviews
Media
The authors of Your Digital Afterlife, Evan Carroll and John Romano, welcome inquires from the media. As independent experts in the growing digital afterlife industry, The New York Times, Obit magazine, Orlando Sentinel, and The Austin Chronicle have consulted John and Evan on related stories. In November 2009, they appeared on CNN in a featured video story, "Planning Your Digital Afterlife." In January 2011 Your Digital Afterlife was featured on NPR's Fresh Air and in The New York Times Magazine.
More Information
Contact
Email: media@yourdigitalafterlife.com
Telephone: (919) 442-8799
Upcoming and Past Appearances
Evan Carroll and John Romano frequently speak at industry events about the digital afterlife and related topics. Here is a sampling of their presentations. More information about upcoming events is available on the events page.
Preserving Personal Legacy in the Digital Age (Keynote)
Michigan Archival Association Annual Meeting 2011
June, 2011
Preserving Personal Legacy in the Digital Age (Keynote)
Library of Congress FLICC Forum 2011
May, 2011
The Lost Curator: Personal Digital Archives and the Death Transition
Personal Digital Archiving 2011
February, 2011
You're Dead, Your Data Isn't: What Happens Now?
SXSW Interactive 2011
March, 2011
Become Immortal: Understanding the Digital Afterlife
SXSW Interactive 2010
March, 2010
What happens to your online identity after you die?
Ignite Raleigh 2
March, 2010
Who will check my email after I die?
SXSW Interactive 2009
March, 2009