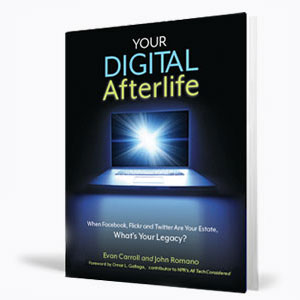 Acclaim
"

To be ahead of one's time usually means stepping to the side of one's time in order to see it clearly. This book does just that, putting our digital lives and afterlives into sharp focus. Fascinating.

"
-David Eagleman, neuroscientist and author
More Reviews
About the Authors
Since 2008, John Romano and Evan Carroll have researched and wrote about the budding digital afterlife community. They first presented their research to a crowded room at the South By Southwest conference (SXSW) in 2009, and were immediately mentioned on NPR's "All Tech Considered".
John and Evan then created The Digital Beyond—thedigitalbeyond.com—as a think tank for digital death and legacy issues. The site has grown into the go-to source for digital afterlife information. The New York Times, NPR's Fresh Air, Obit magazine, NPR's Here and Now, Fox News, CNN and The Atlantic have featured John and Evan and their work with The Digital Beyond and Your Digital Afterlife. They returned to SXSW in 2010 to host another session called "Become Immortal: Understanding the Digital Afterlife" and again in 2011 to lead the panel, "You're Dead, Your Data Isn't: What Happens Now?"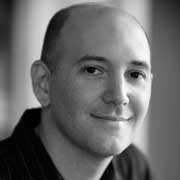 John Romano works as an interaction designer, technology researcher, and cultural observer. His work centers on the mass adoption of digital tools and the ways they are changing how we interact with each other. When he isn't writing or speaking, he is designing websites, building stuff in the garage with his son, or riding his motorcycle. John holds a Bachelor of Environmental Design degree from the North Carolina State University College of Design.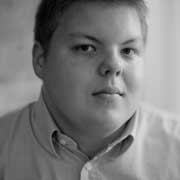 Evan Carroll is an experience designer and researcher. His passion is observing how people interact with technology and using that insight to create user-centered products and services—a passion that led him to study the digital afterlife. In Evan's spare time, you'll find him pulling for the Tar Heels or escaping the digital world at the North Carolina coast. Evan holds a Bachelor of Science degree in Information Science and has completed additional graduate studies at UNC-Chapel Hill's School of Information and Library Science.
Evan and John are available for speaking engagements and media inquiries. Check out their event schedule to see when they'll be in your area.